Volume 14 Issue 11
/ Mar. 12,
2015
/ Brought to you by Joy Gendusa, Founder & CEO
Why you're LOSING 50% of your sales!
Studies by Forrester Research estimate "that approximately 50 percent of potential sales are lost because users can't find information and that 40 percent of users do not return to a website when their first visit is a negative experience."

That's a HUGE chunk of prospects! And what that means is that the ease-of-use and navigation of your website are responsible for nearly HALF of your sales—if that doesn't make you want to re-examine your site, I don't know what will!

So let's do this. Pull up your homepage, click through to read more, and let's take an honest look at your site with these five important questions you need to ask...
Email marketing helps you close more leads. Period. Could there be anything more frustrating than creating a bunch of leads just to have them sit there… not buying? It is hard work to get leads in the first place. You need a system in place that will turn as many of those leads as possible into sales. We can help you with that...
---
Featured Article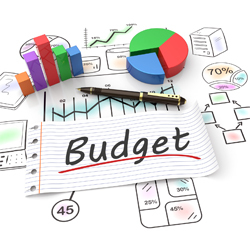 Making a budget is boring and a little hard to figure out. I know this because I've asked hundreds of business owners what their marketing budget is and most answer with silence. BUT (and I can't stress this enough) IT IS VITAL TO YOUR BUSINESS SUCCESS!!!
So, if making a budget is boring but necessary, you want to find the easiest, most productive way to do it, right? I can help you with that, and I will. But first, three disclaimers:

1. There is no single one-size-fits-all solution. So don't go into this looking for a silver bullet. You will get the tools you need to build the perfect budget for your business. You will not get "this one super secret budgeting trick that drives accountants crazy."

2. Think of your budget as a starting point. The goal of this article is to get you to understand the minimum amount you should be spending on marketing in order to GROW, not maintain the status quo. With that in mind, you can always increase your budget to grow more quickly. That's how this thing works. It's an investment. The more you put in, the more you get out (as long as it is wisely invested – don't spend it all on dancing sign-wavers).

3. The first thing a business owner will do when they need to cut expenses is cut the marketing budget. This is 100% ALWAYS the wrong thing to do.
Disclaimers done. Now, on to the good stuff...
---
MISS AN ISSUE or Having Formatting Problems?
---
© 2011-15 PostcardMania®. All rights reserved. All PostcardMania® trademarks and service marks used herein are the property of PostcardMania®.
Privacy Statement: PostcardMania® does not and will not sell, trade, loan, transfer or reveal in any way your personal details, for example your e-mail address, to any outside party.