Personalized Postcards
Get more response with customized postcards!
Want to up your marketing game and make every recipient of your postcards say "Great Caesar's ghost! Was this postcard printed just for me?" Or something to that general effect…
Well now you can! Personalized Postcards use Variable Data Printing (VDP) technology to customize every postcard to the specific interests of the person receiving it. There can be hundreds of potential designs in every order! Long story short: You rake in more sweet moolah from your postcards than ever before.
Personalized Postcards Overview
Postcard marketing generates great results because it targets groups of people already likely to be receptive to your offer. When the opportunity comes along to further target your message to your audience, your marketing ears should perk right up. We know ours do…
Personalized Postcards customize the elements of the postcard design based on the attributes of the recipient. Sounds nice, but what does that mean? Well, for example:
The image on the card can be determined by the recipient's gender
The text can be determined by the recipient's industry
The offer can be determined by the recipient's location in the sales cycle (i.e. raw prospect, stale lead, customer, etc.)
The combinations are endless! Well, almost endless.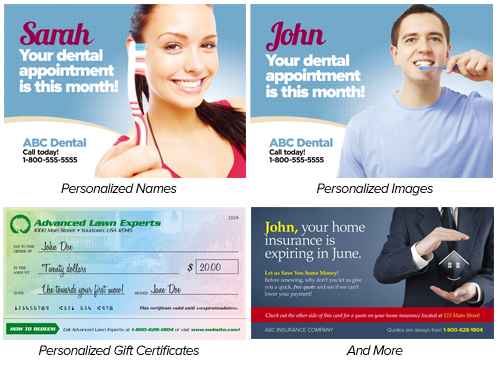 Check out more about our design services here!
Daniel Victor, Rapid Care Transcription (P) Ltd

Honest, friendly, persistent..supported by an excellent team...totally reliable!
Janet Reiter, Reiter for County Attorney

Miesh - yes!! I won 58% - 42%. Thank you to Postcard Mania! We door-knocked & lit-dropped with the post cards created by Postcard Mania! The info on the literature was presented in a sharp, professional layout. I think it played a part in my win. Thank you.
Judson Smith, Capital Match LLC

3,421% Return on Investment (ROI)!
Blue Path Investments

23 calls and $16,000 in revenue in just 45 days!
Josh Sanders, Shiloh Street

Even though I started this farm area this year, my ROI is still 350%. Next year will undoubtedly be even better (10x with the price range I mail to)!
Grace Academy Preschool

We may actually have 3 new enrollments as a direct result of the postcards. This constitutes 15% of all our students; 1/4th of all NEW students to the school this year. These new students brought in almost $3000 in added revenue to our school; about 15% of our total revenue.
What elements of the postcard design are variable?
You can change up the images, copy, offer, call-to-action, headline, benefits, and more!
Can I provide my own images for the design?
Yes! Give us a call and we will go over the exact printing specs for Personalized Postcards!
What is your turn-around time?
In most cases we can print your personalized postcards within just a few days! Give us a call and we can tell you whether or not we can make your deadline!
Pricing:
Not much more than standard postcard printing - prices start at just 14 cents per postcard! Call today for pricing: 1-800-628-1804.
Not much more than standard postcard printing! Personalized postcards start at just 14 cents per piece. Call us today and we'll be happy to give you an instant quote on your project: 1-800-628-1804
Give us a call for the best price on your campaign!
1-800-628-1804