Business Reply Cards
Boost Responses with Pre-Paid Response Cards
So you know when you get something in the mail and you fill it out, and then you realize that you have to put your own stamp on it? That's aggravating, right? Don't be that guy. Send a mailing with pre-paid business reply cards, and start building trust with your prospects from day one. Plus…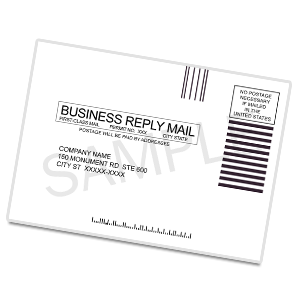 The post office only charges you for the responses you get. So you're not paying for all that postage in advance. A lead is worth the price of a stamp, isn't it?
Business Reply Cards help you
Bring in more leads
Easily survey customers
Get the information you need
Business reply cards are 6x8.5 inch postcards folded in half to a 4.25x6 size. They are printed on high-quality 14pt. cardstock. In other words, these cards are abundantly professional.
What is your turnaround time?
A normal order is printed in about a week, and adding business reply cards doesn't change that! (But might take a little longer if we have to design your ad from the ground up.) We also offer rush turnaround times for a small price if you need your order super fast!
You can get professional business reply postcards for your mailing starting at 17.5 cents per piece (not including mailing costs). Call today for a custom quote!
Give us a call for the best price on your campaign!
1-800-628-1804