6x11 Direct Mail Postcards
Stand out in the Mailbox with our Colossal Postcards!
When you just flat-out have to get your message through, it's time to turn to the Godfather of postcard marketing. Our Colossal, 6x11 postcards are the largest postcards you can mail at the standard letter postage rate, so they pretty much give prospects an offer they can't refuse.
Colassal 6x11 Postcards: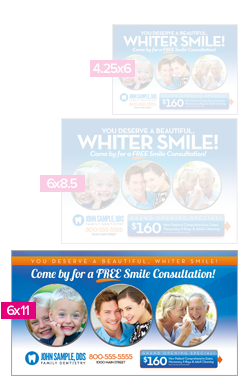 Partial Postcard Design - We design it, but you know what you want. You tell us what you like and provide the text for the back or choose from more than 1,000 proven industry-specific design samples. $99 with unlimited revisions
Full Postcard Design - We do all the work. Our copywriting and design teams create a results-driven postcard design including images, text and layout. You fill out a short design survey and we take care of the rest. $199 with unlimited revisions
Farmers Insurance

I was "blown away" by the quality of the employees at PostcardMania. Everyone was so helpful and pleasant to work with. Susan Tibbs did a wonderful job of helping me set up my program. I have referred her out to other agents. The response absolutely shocked us. We wrote so much high quality business. It allowed us to exceed our year end numbers! I will be spending another $10,000 in September. Keep up the good work!
Gary, Hidden Harbor on Harris Lakes

I want to THANK YOU and Susan for taking the time with me earlier today! You both seem like "first-class" people working for a fine company. I think that you know what we are trying to accomplish and you understand --- what PostcardMania can do to help us reach those goals. Both Eddie and I appreciate your help and assistance and look forward to working together.PLEASE let us know if there is anything that we should (or could) do to help you --- help us.
Donnie Shinn, Sheffield School of Dance

Your company does an awesome job of marketing and I believe the enthusiasm that your employees exhibit is contagious! Keep up the great work and stay focused on your plan because it works!
Sarah Tonski, Saint Rosalia Academy

Dear Kate, I've already had 3 phone calls that referenced the post cards, and they wish to register. I'll keep you informed, but thank you!
Joy, I wanted to drop you a line and say how happy I am with your team. Lisa, Karlie and Erin were very easy to work with, with just the right level of follow up as to not be annoying but to be as helpful as possible. There was never a no we cant do that from them. My campaign just mailed for the first time on Friday so I haven't seen any return yet but even if I get no response it was an easy painless process.
I just wanted to send a quick note to tell you how much I appreciate the work Hailey did on our postcard layout. It turned out better than I expected and it was nice to see someone take a rough concept (the rough layout and copy I sent) and make it look like it should. The piece she created is very balanced, eye catching, well formatted, and well branded.The proof is in the pudding as they say, so we will see if we have captured the attention of the recipient, but as far as giving us the best shot at it, I think Hailey has done that.
Woodside Orthodontics

It was great working with the design department they kept me informed of everything. I was impressed with the design it was exactly the way I envisioned it.
Shani Muhammad, 5 Star Representatives

Hello Melissa, I just wanted to send a quick note. I love your customer service! Also, whatever you're paying Theo, double it. He sold me in one phone call! He's very knowledgeable and provided great feedback. If this plays out...you'll have a loyal customer in me. Thanks Again!
Melissa, you have an excellent team. Every time I speak with one of your team members... it's like they already know what I need. Your professional team got my total freedom to create, and keep shining so many talents. Now, without expecting it.. your introduction raised me to another level. I appreciate it. Thank you very much!
Autumn Flowers, Village Green Landscaping LLC

Hey Stephanie, As of today we've gotten 11 appointments and have sold 2 really nice size projects, and two other average size. One project is still a work in progress, but should be to the tune of $15 - $20K; the 2nd around $10K. We are so excited to see this many results this soon!
Accubanker

Keep at it pricing, process, and postcards are what make you guys great. I will definitely refer you to others.
Biohazard Clean Up

Desiree; I've already got a new job because of the previous mailing. Thanks for doing such a great job getting them out! I'm excited to start another campaign! Bill Jankovik
It was nice talking to you last week. And thank you for your help. We have had a positive experience working with your company, and we are looking forward to doing business again soon, and hopefuly regularly.
By the way, the postcards that you made are beautiful! You do excellent work!
?Desiree, Thank you for checking in! Everything has gone out and so far we have received 2 phone calls from the mailers so not anything big just yet. I am happy to email you a status update once the promotion is over. Everything with your company way great! Megan was fantastic with the design and Adam did great with getting everything mailed. And, of course you helped quite a bit with making the ordering smooth. Thank you again!
Do you realize, my dreams of being a business owner are coming true because of you and your team!!!! LOVE IT!!! Thank You!
We received our postcard order today just as you promised. I wanted to take a moment to thank you so much for your very professional and prompt service! We were getting desperate to find someone to print these for us in our price range at the last minute and found your service to be just what we were looking for! We get postcards printed around this time every year and will very likely be contacting your company again next year. Thanks again! I would highly recommend postcard mania to anyone that is looking for fast professional service!!
Hometown Classic Builders

Hello Susan, I wanted to let you know that our first postcard mailing was a success, and we're looking forward to another set of mailings in the near future. I also wanted to thank you for your help throughout this long process.
Stephanie Lenmark, 3-D Dental LLC

"THESE GALS ROCK! THANK YOU, CARLY, MEREDITH, AND MICHELE"
Lisa, Berry Oaks Pharmacy

"You guys are awesome!"
Kara Duke, Coverstar

Thank you. Sabrina is great! We have never had a problem with her. She is quick to respond and very knowledgeable. Senator Thompson owns several companies - and she is his preferred vendor on all.
Cheryl, Spring Branch Dental Care

Dear Kristi, BAM! YES!!!!! I absolutely love it!!!! Boy....you hit it with the gold I was telling you I wanted! Ok...whats next?
Tahlia Dorsey, Allstate Insurance

Maggie, I have to tell you that your customer service skills are AMAZING!!! Of all of the companies I have contacted for our different projects, you are the only person who doesn't seem like their life is about to end. So thank you so much! I wish I could tell your supervisor and you get a raise, a promotion, something. Good luck!
No joke, you guys have been the best vendor I have dealt with in my campaign. I will be telling other candidates about the fantastic job you have done. And with your prices, we may be able to do a second mailing in a couple weeks! Thank you so much!
Marc McIntosh, Showcase Events, Inc.

This is my first shot at having you guys design something for me and I absolutely LOVE the overall look of this piece. Thank you!!!
Bill Bailey, Bill Bailey For Congress

Thank you again for all your patience and help. I really appreciate it. With my opponent having $2M, and me not 1/20th of that, when we win, it will have been because the 50,000 postcards you made and mailed for us were directed at the targeted 50,000 voters who made the difference
Sam Hilo, Phoenix Salon

The postcard mailing went very well and certainly achieved its goal!
Tammy Blackburn, Family Network on Disabilities

Everything is perfect. We're very pleased with the design, the PostcardMania employees are great to work with!
Daniel Victor, Rapid Care Transcription (P) Ltd

Honest, friendly, persistent..supported by an excellent team...totally reliable!
Thomas Nagy, Vivid Infusion

We have partnered with Postcard Mania for several years now and I could not be more pleased with their support of our business. Each and every customer is managed and processed with the exact same dedication and commitment to ensure everything is correct! I commend Postcard Mania for making sure their customers are taken care of and I look forward to doing business with PCM for many years to come! Exemplary customer service and wold-class printing is a very appreciated combination for our firm as well as our valued clients!
Emily Spencer, Spencer for State Board of Education

Everything went very well. Working with design and print went smoothly, and we are very happy with the quality of the postcards. And we couldn't be more pleased with your mailing services. Katelyn was so helpful and saved us thousands of dollars by assuring us mailing at the standard rate would work out fine. And it has. People have already received the cards, much sooner than we ever anticipated.... and definitely in time for the election! Thank you to all of you. ~Emily
Linda Tuttle, Wilkerson-International Diamond Company

Susan just wanted to let you know I absolutely love the postcard; we got it in the mail today. I'm extremely pleased, thank you so much for all your help
Carrie Lamm-Clark , Carrie Lamm Clark for Prosecuting Attorney

YES! I won. And I am CERTAIN that the mailings/postcards made a BIG difference! Very pleased.
Laurel Manke, Skin Care Fort Worth

I love your service. Great staff!
Dave Parkerson, Right Away Auto Credit

Everyone I spoke to was very eager to help me get the job done and in a very friendly and professional manner - Keep it up!
Janet Reiter, Reiter for County Attorney

Miesh - yes!! I won 58% - 42%. Thank you to Postcard Mania! We door-knocked & lit-dropped with the post cards created by Postcard Mania! The info on the literature was presented in a sharp, professional layout. I think it played a part in my win. Thank you.
Misha Mendicino, Misha Mendicino Designer Resort Wear

I am delighted about the customer service so far, but what really matters is the ROI. I surely hope that this go around I will have some results from my direct mail campaign. Being a small business owner is really tough, watching every penny and never wanting to make a costly mistake. In moving forward I am hoping that I chose the correct marketing team to assist me in growing my business. Again, thank you Melissa for the introduction, I will keep you posted on the campaign. By the way, Joy Gendusa and I were both awarded the WE Magazine 100 women in E-Commerce!
Scott Hille, Barnegat Lacrosse

You are obviously doing something correct. I wish you and your organization the best of luck. Before I finish I want to stress that Susan has gone well above and beyond any expectation; even though she was not my salesperson! LOL!
Linda Tuttle, Wilkerson-International Diamond Company

Susan just wanted to let you know I absolutely love the postcard; we got it in the mail today. I'm extremely pleased, thank you so much for all your help. Will be getting in contact with you soon for the next run
Raj Oakley was very helpful and candid in his suggestions towards the direct marketing project I'm pursuing. I sincerely enjoyed speaking with him and plan on using your company if it fits my budget. I wanted to email you as a result of his impressive service. Oftentimes during our conversation he anticipated what I was hoping to cover and made appropriate recommendations regarding my questions
Jodi Dinnerman, Lightsource Chiropractic

Thanks lisa. As I said on the phone your disposition and knowledge was 90% of my decision to go with your company. I know a good thing when I see one and your attitude and attention to detail is impressive. I look forward to working with you
Jeff Esko, Esko Recovery Corporation

Like I always say.............. YOU ARE THE BEST!!!!!!!!!!!!!!!!!!!!
Glenn Fowler, Access Innovations

Thanks for the great service! :)
Shah Mundell, Metro Realty Solutions

Joy, Thank you for taking a look at my marketing pieces and then stepping in to help make things come together. You are an awesome owner and I love working with Carly Switzer. Much Appreciated!
Debora MacLean, Access Payroll Services of N.E. LLC

I must say that it was a much welcomed pleasure to call a vendor (Postcard Mania) with something I needed done and it got handled right away by a live person. No fiddling around with email requests to an obscure "Help Desk" and waiting for a reply. No voice mail auto-attendant. Instead A live person from start to finish. Yippee! Kudos to Postcard Mania!
Aimee Charbeneau, Fabrique Designs

Thank you and your staff SO much for being so understanding and for rushing this through production to meet an improbable deadline and catering to finicky tastes. Thanks for all the last second changes and for some incredible customer service. Honestly, you guys and gals have done a spectacular job!
Celeste Bacher, Marlene Rose Glass

Hi wonderful women!! I wanted to say a special thanks for making our timeframe on the notecards work out!! I was able to pick them up and deliver them to our guy today. Phew! You both are the best - I really appreciate all the extra effort this one took....and all the help you offer us all year long!!
Dominique Nelson, Nelson Construction & Renovations

The postcard campaign with Postcard Mania was one of the best moves for our business we made this year. Not only was the service above and beyond what we expected, and the postcard design absolutely stunning, our business has absolutely exploded since sending them out. In fact, about four weeks after the postcards went out, our average number of website hits tripled, as you can see from the attached graph. Our Sales Manager has never seen as many leads as we have coming in right now. We know the successful action! More postcards!
Greg Mcelroy, Smile By Design

Sabrina, That was perfect!! Your amazing. Postcard mania is lucky to have you. :-)
Patrick Cerjan, Golf Performance Solutions

I like your follow up letters and if they are live I would like to let you know that Elizabeth Bates, has once again done an outstanding job moving me through your process. Both this time and last she has been extremely, helpful, conscientious, and professional.
Claudia Klavon, St Mary Magdalene School

I just wanted to tell you that the postcards are beautiful. The burgundy on the uncoated side is better than anything we've had printed before. (I can't believe other printers haven't been able to do this...now we know to give them the cmyk colors! You must have thought that I was nuts, but honestly everything else we've had done came out very brown.) The navy is perfect - can you send me the cmyk for it? I would like to be able to use that color again.
Nital Patwa, Healthy Smiles

Thanks for the good work. I am really pleased with the design effort and wanted to congratulate the team for their superb quality and flexibility. Feel free to pass my feedback to anyone as I will vouch for their great work.
Ryan Edwards, LightChange Technologies

We contacted PostcardMania a few weeks ago to help us out with a direct mail campaign that we are doing to attract some small businesses to our various services. Since the initial contact I have been highly impressed by the quality of service that we have received from Sabrina Glastetter and her team. Communication has been prompt and professional. The knowledge she has shared with us has been a great help. Most of all, I truly feel that she is looking out for our best interests, which is very important to us.
Penne Stafford, LPL Financial

We were very pleased with this entire process, including the tele-marketing calling aspect. We will definitely be using your service again. Thank you for your expeditious efforts to help!
Susan Marone, Behind the Barre Fitness Studio

Just wanted to let you know about my experience with your company. I just did 2,000 postcards with your company and had a great experience. Every step of the process was explained, my proof changes were expedited in a prompt manner and your staff were very prompt with their email correspondence. I just recommended your services to a friend and he is currently in the process of speaking with Kristi, who, by the way, is a great sales person as she never lost touch with me during the time I was considering doing direct mail.
Erin Adams, Houlihan Lawrence

I just wanted to let you know that I received my first mailer and I love it! I haven't heard from my marketing department but I think the quality, colors etc are great. Thank you all so much for accommodating my needs and requests to make this happen!
Kim Denny, LogicPrep

I always know what's going on with our order and feel confident that the job will get done correctly.
Wanda Zuege, Am I High Aviation LLC

Thank you Shannon. I am very pleased with the marketing program as it allows me to do other things with my time and know that the postcards are going out and the Direct Mail 2.0 is popping up. I have had many comments about "seeing me all the time" now.
I really appreciate all of your help. You were really the only full service printing company rep that was responsive.
Scott Edwards, Farmers Insurance

Looks good to go! Haley was great to work with!!
Jeff Esko, Esko Recovery Corporation

THEY HAVE THE BEST REPRESENTATIVES. THE BEST PRICES!!!!!!!!!!!!!!!!!!!!!!!!!!!!!!! THE BEST SERVICE!!!!!!!!!!!!!!!!!!!!!!!!!!! MOST IMPORTANTLY, YOU WILL GET THE BEST RESULTS IF YOU JUST LISTEN TO THEIR VIDEO'S
Randi Wisecup, Remax

Thanks Joy! This was our first time ordering postcards for our business and your staff has had amazing customer service throughout all of it, even with my 5000 emails and questions!
Brian Skelton, Brian Skelton CPA

Cards were a success. Several new customers This year and better response than last year. We are just about full for the tax season now. Thanks.
Cathryn Hilliard, Construction Industry Force Account Council

Yes, Hamilton, I got them. I love talking to you because it's so easy to get things done. You're always so helpful. Please tell Joy I said so or give me her email so I can do it directly. Cathryn
Jarmila Watson, Daniela's Cleaning Service

Dear Desiree, I wish You Happy Birthday and thank YOU for very GOOD JOB. I am so busy now. Our business is very good now. We no need more for now. Thank You again. Enjoy Your Birthday
Michael McDaniel, Compass Resorts

It went well. We picked a few more properties from it. I am happy with the results. I look forward to our next campaign, but I am not sure exactly when that will be yet. Most likely this fall.
Belinda Young, Delphi Florida

Thanks Josh! This is awesome news! I really appreciate the speed at which this was done!
Tim Simounet, Englewood Lawn & Landscapes

We purchased 6,000 "jumbo" post cards to be sent to the same 2,000 people 3 times. I was reluctant to start this campaign in the dead of winter and I was pleasantly surprised. We received about 26 leads and had a great close ratio of 65%. Our total sales were about $30,000.00 with several sales pending.
Danville Fit LLC , Caitlin Callaghan

In February and March we enrolled 21 members from the Direct Mailer. Members enroll on a 12 month membership. Total revenue collected for all 21 over 12 months is $8,988. Looks like the postcards have been working for us!
Greg Schurch, Tempasure, LLC

I look forward with great anticipation to reviewing the same level of positive results from my upcoming campaign. As a new company, I can assure you that has positive results come in and my company grows I will continue to invest in postcardmania.com Kudos to your whole team and I look forward to a long and mutually beneficial relationship!
Ken Fasce, Bee Spider Free

Your company was such a pleasant relief to work with! I've been in business for over 20 years and deal with thousands of customers, phone calls, emails and businesses a year. It gets frustrating and exhausting. Postcardmania does it the right way. From the first email I received from Jody Gower, right down the line to everyone I dealt with along the way. I am beyond impressed with your operation. Customer service is exceptional, your communication with the customer is fantastic, support is out of this world, quality of work is amazing, and the overall program you have is incredible. I am a HUGE advocate of customer service and go above and beyond anything in my realm of possibility to ensure that. It is nice see there are others out there that do the same. I am anxiously awaiting the return on our direct mail campaign and hope the results are good. If it is a success we will be doing a lot more business with you. I would recommend your company to anyone! Big thanks and congrats to everyone in your company that I had the pleasure to work with.
Rolando Mesa, Delta Temp Air Conditioning

Thank you Samantha, I just did my first tuneup today. Impressed, I wasn't expecting it to hit the streets that fast.
Mark Ferguson, Wilkerson - Laverne & Janet's Jewelry

U R Great!! Thanks for everything! We are at 3rd goal and a week to go! Should be awesome with the mailer just hitting! Thanks again! Mark
Jo Hancock, TexasCountryLivingRealty.com

Thank you Andrea, you have been most helpful and I really appreciate everything everyone at PostcardMania has done for me
Aqib Virani, Virani Jewelers

We used cards to draw prospects to our booth at a trade show. We had almost a 2% hit ration
Raj, I would like to thank all of you at Postcardmania for your professionalism and willingness to go out of your way to help. My design was significantly enhanced by your staff and meets my expectations one hundred percent. It is far superior than what I expected as was all my dealings with you. I will certainly save your contact information for further work if I win the primary and need additional printing for the general eletion and beyond. Thank you very much
I would like to take this time to express to you what an amazing staff that you have! From the first time that I spoke with James Andreatte inquiring about your services, the level of customer service has never stopped. Annemargaret McKeon was wonderful to work with and with Vicky Puente doing the final phase, she too, was very helpful. Every time I called your business, there was always and I do mean always, a very friendly voice ready to help on the other end. During this time in which we live, customer service has diminished to a huge degree, but not in your company. I would recommend your company and staff to anyone that needed your services. Again, I want to thank you and your wonderful staff for a job WELL DONE!
Taylor Veatch, Blue Grass Community Action Partnership

Jen, Thanks for getting that job held for me earlier today. I apologize I disrupted your smooth process. I know I can be a very particular and painful, OCD and even anal.(my wife uses different wording) customer but you and your team has made me look great during these 3 jobs we have worked on together. I should have some more stuff coming as we are redesigning other routes now. We are just 6 days into postcard coupon valid dates and the amount used already has blown away our expectations already! 15 rides in the first wo days and 12 yesterday. Today is brisk also. I especially want thank you and Brad because you have made me look like I know what I'm doing as well as being an integral part of a campaign that seems successful early on. I can see us doing several more mailings in the future, possibly throughout our entire agency. Thanks, Taylor
Amy McOsker, Fit For Play Physical Therapy & Fitness Center

Looking good ;) We really like the "pop" that was added to the design.
Hi James, Thanks for your help with this mailing project for Mpower Maternity, I'm impressed that Ms McKeon has started working on it right away and given us our first design for review already. Happy to say we have been busy with the new influx of students.
saw your company and videos. I wish I lived closer to have a chance to work for you. I have 2 little girls & live in Pasco but I'm very inspired by your success and would love to able to have something like that one day. I have a website at www.suncoastaddesigns.com if you would like to see what I do for myself. Nice to see a company like yours showing others how great it is to work there. Almost all others are a mystery until you start. If I were to move down there I would visit every day but get paid for it. I apologize for my excitement, I have just been at the same company for 15 years and it now seems extra boring now. Congratulations and continued success
Moriah Hurst , The Hartford Dental Group

I wanted to send a shout out to Brad Parker. He was my first contact when I called about getting our account started and he was more than wonderful the entire process. We had extremely nit picky details to be adjusted and he was helpful, encouraging, and gave great suggestions the entire time. I feel like he went above and beyond to help me out as an individual and not just an account. Thank you Brad! Appreciative and (new)loyal customer
Amy Burke, Vic Coffin Karate of Garner & After-School Program

I just wanted to let you know that I've experienced stellar service and value through PostcardMania. Every person who has worked with me (especially Mike) has been extremely competent, professional, responsive, and personable. The quality of our postcards was great, too! I'll definitely be using PostcardMania again, as well as recommending your company to others. Thanks so much!
Doing good thank you! I consider the mailing a success. It made my customers aware of the new offerings and it brought in enough business to pay for the initial cost. I may follow up with a second mailing after the first of the year. Getting ready for the annual election period, our busiest time. The last 4 months of the year are great for us. Thanks for checking in!
Candi Workman , In'Finite ArtSports Inc.

We had 35 new leads attend our Open House and 25 signed up! We are still getting calls from the mailing! It has defiantly been the best marketing tool I have used in conjunction with my other marketing plan components. I will surely use PostcardMania again!
Blue Grass Community Action Partnership, Inc

Once again, Brad Parker, Jen Tran and their teammates knocked it out of the park. Always a pleasure to work with PostcardMania and the quality is always as expected. The Receptionists always seem to know who I am calling and what stage my job is in. I love that (from touring your facility) that the Receptionists sit above the sales floor and can readily see if someone is available. Always friendly and efficient. Brad is great at what he does. He always understands my crazy lingo and figures out what I am asking. He also makes great suggestions. Jen Rocks!!!! She and her team must read my mind. Once again, they take my crazy ideas written in my own crazy language and bring back something better than I envisioned. Our first mailing was way better than we thought it would be. We did a banding campaign. We had such good results, we did a second mailing with equal results. Now just mailed into a different market and looking forward to doing more.
Jessica Burns, Kings Collision Center

My name is Jess, I spoke with Theo today from postcard mania and I have to say I was very impressed by his eagerness and willingness to help!
Patti Levy, Golden Eagle Cleaning Services Inc.

Just wanted to tell you that I got the bunch of samples that were printed and they came out great!
Dominique Nelson, Nelson Construction & Renovations

We had seven leads in one day, and four were from the postcards! This is a highest ever for us! I know it is from all of the outflow! You guys ROCK! We will be returning customers for sure!!
Patti Earling, Sleep City

You guys are awesome!
Calvin Butterworth, Contractors First Insurance, Inc.

Samantha, Everything went just as you said that it would. Luke was great to work with. Thanks again, Calvin
Kristin Johnson, MyBackOffice

MyBackOffice had a wonderful experience with our team of Laura, Samantha, Bethany, and Scott. The design process was smooth even with a few edits and I believe that's a testament to the comprehensive design survey and follow up on small details like artwork, etc. When we would suggest a change, it always back to us quickly and exactly what we asked for. Samantha's help with the list and her suggestions on refining it were spot on. She too was super speedy with responses and she was a wealth of info. I would imagine her to be a top employee. Hang onto her! While Bethany and Scott played a lesser role, their communications were no less timely and always friendly and enthusiastic. Overall, I really felt the whole team at PM was on our side. I felt supported and important even though our job was surely not large by any standard. Please share my feedback with my PM team
P.S. I love PostcardMania!! Your service is great.
Nancy Hughes, IGA Adventure Center

We had great success with our first mailing and we are at almost full capacity!
Just wanted to let you know Holly was wonderful... I really enjoyed working with her over the phone with such a short amount of time... she is very knowledgeable...
John Hamilton, HC Homes LLC

Hi Theo, I hope you are doing well? I want to send a big THANK YOU for your help in getting my first DM campaign successfully done!
Taylor Veatch, Blue Grass Community Action

Jen is the bomb! She can translate my jibberish to her team and comes back with a prize each time!
Scott Harper, Ally DVM

Just wanted to drop a note about Saskia Murphy. She is awesome to work with and has been a huge help to our company. I'm not sure how often people compliment her, but she deserves some praise! Thanks!
Lonnie Barkby, Advanced Tech Hearing Aid Centers

First, thanks for such a good job on the last postcard! It's been our best one yet! We had to expand it from a 2-day event to basically all week! Since this went so well we're likely going to do the same type of event over Christmas
Just wanted to take a minute and say thank you for all your help and by this time next week we should have a feel for how well the post cards worked first of the 10K hit mailboxes today around 2700 so with that .... I'm Keeping my fingers crossed with high expectations of more to come Thanks again Ladies Mike
Hi Holly. Thought you might want to know we have picked up over $14,000.00 in jobs with your mailings, and as far as I'm concerned this is the worst time of the year for residential sales.
Amy, Grace Realty Partners

Hi guys, I just wanted to take a moment to thank you both for my recent order … getting lots of calls so far (32 calls so far — 3.2%, which you know is higher than the USPS reported average for direct mail!). Hoping we will get as many as 50 calls before the campaign is done! The cards look great and I appreciated your assistance. PostcardMania is the best!
Mary's Cleaning Care

Hi Theo I just want to say how happy I am with the response from our mailing:) We have 4 new clients and still setting up appointments from walk thru:)
Love my cards. I will let you know the response I get from them. You did a great job and I felt duplicated . Thank you
Jamie McGowen, Scott Frame and Art

Sabrina, First off…… Let me say THANK YOU for all of your follow up emails, postcards and marketing packets. I have been completely consumed by our new store and horribly behind in sending my thank you. I would also like to mention that working with Winston was a wonderful experience. His level of customer service, patience, understanding and urgency was OUTSTANDING!!! Our entire experience with our first mailing was fantastic. We were a little concerned at first, being out of state. But you and your team have definitely helped us overcome that.
Arizona Dental

Yippie!!!!!!! you guys are great!
Alpha Rescue EMS

I just wanted to give a big Thank You to Susan, Jen and all those involved in helping Alpha Rescue EMS complete our first mail-out. It was not an easy mail-out due to crazy mailing lists and time constraints but these two ladies and the Postcardmania staff helped us pull it off without a hitch! Our design seemed impossible at first but Jen made it happen with every little detail and it turned out beautiful! We had lots of questions along the way and each one was answered within minutes! So thank you from all of us at Alpha Rescue for such an effortless process! Five Stars!
Prestige Landscape Designs

Happy holidays Darcy! We had a great year, and with the help of you, And PostcardMania, our cards really paid off. We will probably be looking to update our cards sometime in spring, So look forward to working with you again.
Danyelle Vill, Wray Accounting & Bookkeeping Service

Everything from start to finish has been professional and way above my expectations. I am lucky to have found your company.
Joe Cosentino, Morris Park Realty Group

Thank you and your team for great ideas on how to better promote our brand and business. The post card design and layout was exactly what I wanted.
Douglas Hamilton Granzow, World Karate

Hi Joy! I am your customer! I Spoke to Raj this morning and put money down for production. I am so excited I'm doing an end zone dance in my office and we haven't gone to print yet!
Leslie, Ashley's Pool & Irrigation

Everything Was Awesome!
Victoria Watson , Coldwell Banker Quality Properties

Hi! These two ladies have been amazing! I wouldn't have gotten anything accomplished if they had not walked me through doing everything step by step. I love the phone calls and the emails! Kudos!
Keith Calvert, Dr. Keith Calvert DMD

Working with Desiree Jaques, Jen Tran and Dean Flux and the other staff at Postcardmania was very pleasant and productive in developing both the website and postcards to mail to potential patients.
Steve Venables, Venables Pest Management

I spoke with Theo yesterday regarding a small item which he said will be cleared up today. I know the campaign start up is going slowly but it's only from my end. PostcardMania has been on top of everything and I feel I'm in good hands. I've worked with many organizations and see a varying degree of professionalism. PostcardMania has shown to be among the top. Not just in the marketing field but among the top in all businesses.
Meredith Simpson, Sunburst Bin Cleaning

I've known about this company for quite some time but haven't had the opportunity to place an order with you until now. I always suspected that you all had it together over there and I can certainly see that it is in fact true! I initially worked with Sean, our sales rep, and he was helpful and always replies with a timely response. Even if it means writing multiple quotes to satisfy the "picky" customer. After our order, I had asked him to please opt us out of the email followups and while he was happy to comply, he did mention there was some very useful content that we could use. Let's say I'm glad I kept the subscription. Thanks for that. Then I started working with Sarah McGill. She is so on top of everything, it's hard to believe I am not her only client ;) The Postcardmania workflow process that was sent to us...she has it down pat. Plus Sarah was able to resolve a scheduling misunderstanding on my part, and she made sure we were 100% satisfied. Plus she's nice too :) If Sean and Sarah are a representation of all of the staff you have at Postcardmania, what a wonderful place it must be :) I hope to be doing many more orders - fingers crossed for our new business :) Have a great day and thank you!!
Mark Ackerman, Glenway Auto Center

You did save the Day!!!!!!!! Phil said that we have had three coupons redeemed today with two more appointments for today. Thank you, thank you.
Cheryl Klein, Badger Truck Center

I recently worked on a postcard mailing with Alissa Sinibaldi and her graphics team. I completely bombarded them with information and thought to myself – this will take forever to go through proofs and get all the information we need on here captured. Within a few short days Alissa had a proof to me and it was spot on! I was blown away. She has been great to work with and is obviously an asset to the PostCard Mania team.
Rob, Standing O Marching

Thanks for checking in, great to hear from you. The first round of mailings went very well a couple of months ago, and just sent off the second batch this week. I had one small change to the postcard which Jenn got back to me within a couple of days, they were printed quickly and mailed a day ahead of schedule. As always, outstanding service from everyone at PCM! My business has grown substantially over the past few years since using PCM to design and mail my postcards using my data lists. Last year was the best year yet and this year is already looking to be better, it'll be interesting and exciting to see how it turns out over the next few months, which is the primary time for people to look for and purchase the music I write.
Tiffany Williams, Organized Energy Coaching & Consulting

Good evening, and thank you very much for taking this project on as your baby. I want to use this as the foundation of my branding, as my business has been expanding recently and I need to be really on top of my marketing. I was so upset yesterday and you have truly gone so far above and beyond. I know I am nit-picky and I know it is a lot, but I want this to be something that speaks to what I believe in. Working with you in just these short days, I know that you are not only invested in my business, but you are truly and deeply invested in the human condition. You are learning my quirks and habits and you are adapting in ways that just keep pleasing me. I cannot express to you how close I was to giving up and wanting to get my money back. No longer! I feel that you figured out what page I was on and then you got yourself right there with me, in just a few short minutes. You may be a miracle worker, but either way you are well versed in the art of communication. Thanks so much! I appreciate your kind assistance in this! Once again, the card is coming along beautifully based on the proof that I received today :)
Diane Stein, CCHR Florida

Working with everyone at PostcardMania has been a pleasure. It is unfortunately rare these days to be treated with such professionalism, care and kindness! Every person I have spoken with about my campaign has given me excellent advice and their certainty in their knowledge of their jobs instilled the utmost confidence in me that we are doing exactly what is needed in order to make our campaign a tremendous success. Thank you!
Kay Kalmer, M&C Construction

Thank you for such good service. I look forward to working with you again in the near future.
Randy Mikel , Home Improvements Unlimited Inc.

I love the website ,it looks really nice ,it took a lot to pull it all together but the wait was worth it .Dean is very easy to work with and does good work .I like people that take pride in there work .I intend to do all I can with the website to reach new client's.My postcards are looking really awesome ,Sarah took care of all that work and I'm pretty much impressed with your company and services,and I'm pretty hard to impress. .Sarah is easy to work with and were putting a mailing list together and looks like we're going to be mailing them out soon.I definitely called the right company to take care of all my needs .I wish you folks were around 20 years ago .Thanks a lot guys ,keep up the good work .
Scott Weiner, G&C Landscaping

I recently used your company, Im a mid size landscape company up in MASS. Mailers are going out soon. I would like to tell you, starting with Deseree, whom is relentless in earning business , contacted me for over a year until she got my business, and all the people attached to her to complete the mailer, absolutely top notch!! professional, polite, courteous, fast, punctual.............should I say anymore, I think you got the point! Wonderful Job, please tell of them they do a great job. I think about 10 people contacted me , checking to make sure it was all in order, which it was, every step of the way. I think I just need to pay the postage this week, and we are all set. Thanks again
Victoria Rose, EKC Rehab Resolutions

Hey Vicky, Thanks so much for your assistance with our postcard design and service. You were so great to work with and will consider using you all again in the fall. They look great and we appreciate everything you've done!
Gina Sutton, Parkway Heating & Air, Inc.

I think it went great so far.... closed 2 jobs and have given a few estimates that I hope to hear back from.
Jessica Laidlaw, Premier Athletic & Tennis Club

Thank you Sandy I appreciate your help!! I'm excited to continue our campaign with Postcardmania! :)
Sarah, Arcadia Dental Franklin

It's a little overwhelming in a good way. We are having 30+ patients coming with the mailer every month and with other online campaigns I am averaging 50 new patients a month. We are expanding since we need more rooms to accommodate these patients. This is great!! I will be in touch with you soon after I have the end date on the construction. We need to start another campaign in September.
Tim Lanier , Killian Service Center

Hi Brigitte, I'm close to being ready. Our first few mailers have been so successful we've had to hire and train more staff! I haven't done much advertising this year because I've been focused on handling the increase in business.
Exact Income Tax Service

I have used this company as my direct mail provider for at least five years and have found them to be effective and dependable. They do what they say. They ensure I am clear on what they are doing and what it will cost me. They respond to my questions promptly, before, during, and after the promotion. They have helped me update my methods and messages. At my request they remind me when it is time to start the next season. Post Card Mania has provided me top tier service at reasonable prices over time, an A-Plus company in my book.
Diana Nartowicz, Apple Blossom Center for Discovery

Thank you so much for your hard work and patience. You have all put together a beautiful postcard and one that Apple Blossom Center for Discovery is very proud to send to the nearby families announcing the Open House for the school No matter the problem, you, Ashley, Theo, Mike and Josh all tried very hard to solve it to our satisfaction and always with a smile on your faces, though I know at times all of you must have been very frustrated. It never showed. I wish the discrepancy in mailing charges had not happened, however, as soon as you researched the problem it was handled very quickly and very professionally. I cannot thank you enough for your diligence. I will definitely use Postcard Mania again and feel confident recommending you.
Drew Orton, Watercure USA

I know I'm a pretty demanding but my family business is always at stake when spending advertising dollars ....Kate Broughton, Kelly Tyrrell and Mark in Graphic Design...put up with my demands to be "WOWed" and exceeded it !!
Wanda, Multi-Task Her

Thanks for educating me it means a lot and I really LOVE how you guy's do your business it's been a Wonderful Experience being educated and feeling like I'm in AWESOME hands with ALL of you thus far. Can't wait to see my post card. I'm like a salivating dog ;-D and can't wait to see them!
Lightning Pools

" Lightning Pools was able to increase their overall sales number by 53% in the first quarter we were using postcards"
Marge, Affiliated Inspectors

You guys are efficient! and nice to work with! and good at what you do!
Rodrick Rhoads, Comet Cleaners

The results have been good so far. We have had 60 new customers redeem postcards since delivery.
Mike Mensch, Campbell Insurance Center

FYI - Your company's follow up is fantastic. I've received multiple emails, calls and a packet in the mail with sample post cards. I liked the email about the CEO the most. Please tell everyone they are doing a great job.
Philip Ciraolo, Philip's Pro Seal

Thank you for doing such a great job!!! You have earned my buisness :)
Roy Wasson CFP

I compared your firm's services, costs and products against 4 other companies and ended up going with YOUR firm mainly due to the great communication skills and customer service given to me by Raquel Bugh. Raquel has superior listening skills, answered my many, many questions and got my order. You are fortunate to have her as an employee.
Marlene Rose Glass

I rarely have to call the receptionist as all of my work is generally done directly with my sales associate and designer. However on the occasion that I do need to reach someone on the phone, I'm always promptly and politely helped. I have been working with Samantha for many years and really appreciate her expertise. She is always very efficient and able to offer me exactly what I'm looking for. Charlotte has been helping me for a while now and she's so helpful. We're not the easiest client to work with as we have very specific needs that are not typical. Nevertheless, she's able to help us get exactly what we need each time. …our designer is always able to work with our very specific requests and get us exactly what we want. We definitely get great response from our cards. Even if we don't get a direct response from our cards, we see an exact correlation to our sales. When we have regular weekly mailings we have consistent sales. If we ever pause our mailings, our sales dip to the degree that we've stopped our mailings. Just thank you for your wonderful work!! You have a great team!!!
Donna L. Miller, RE/MAX Realtec Group

I credit 2-3 sales per year due to my calendars which is approximately $20,000-$30,000 in income.
Rachel Roussel, Devoted Dance Academy

Our mailing went successful overall. I do think we didn't have the best mailing list for us as we could have had. I think going further out in the distance was a little bit of a waste, however we did receive about 4 new customers which in the dance industry is great because those students will stay with us and bring in a revenue for about 10-15 years!
Danielle Vogel, DK Web Design LLC

I am very pleased with the service I received as well as the amount of calls I received from prospective clients – the campaign worked really well and I will be doing more in the future.
Daniel Hiestand, Chico Car Care

Overall the service and experience was fantastic. One minor glitch was that we had verbally discussed using a larger card than was originally designed. This wasn't changed and I did not catch it on the proof. Still, the cards were a great success and considering the super rush to push this project through I am very pleased and have benefitted geatly. Super Rush project that landed in my customers mailboxes the day before and after Thanksgiving was just what I needed. One other thought, an email that explains the process and the individuals involved from start to finish would have helped. Perhaps I did receive this but missed it. Again, quickly done last minute project done on time and with great results. Thank you!
Cathy Pearce, Sold Rock Properties, LLC

I listed one house and when it sold, netted $10,069 — an ROI of 625.7%, which more than paid for the mailings. I have listed three houses in that community.
Bryan Webb, Webb Real Estate

$45,000 in income! A 1,484% return on investment!
Are 6x11 postcards the right size for my business?
It depends on many factors, like: How much competition do you have? Do they also mail postcards? How complicated is your offer? Etc. If you aren't sure you need quite this much space, call 1-800-628-1804 and one of our marketing consultants can help you figure out the best size for you, based on your specific marketing situation.
What are your Printing Specs?
Our standard postcards come printed in full color on high quality 14-point card stock and super glossy UV lamination (on the front). But you have choices! We offer many different paper stocks and printing options – just call us and we'll be happy to go over them with you!
What is your Turnaround Time?
A normal order is printed in about a week. However, we also offer rush turnaround times for an additional fee if you need your postcards faster!
Our 6x11 postcards start as low as $0.09 per piece! Call for a custom quote! You'll be glad you did.
Give us a call for the best price on your campaign!
1-800-628-1804