Professional Public
Speakers For Your
Marketing Event
When you want practical, proven education that guests will thank you for.
PostcardMania's public speakers are keynote-notch and ready to rock your event.
Our speakers aren't just talkers — they're marketing experts who are passionate about helping small businesses grow and prosper. They deliver proven marketing strategies using real-world examples, case studies and the campaign results of 78,589 clients across more than 350 industries.
Our marketing speakers turn otherwise complex marketing data into clear, step-by-step solutions your attendees can implement right away. There's no industry jargon or marketing-speak.
Not only have our speakers nailed down the principles of direct mail marketing to a science, they can speak with authority on several in-demand small-business marketing topics, including:
Lead generation
Direct mail
Pay per click advertising
Unique selling proposition
Standing out from the competition
Website optimization
Email marketing
Follow up
Meet PostcardMania's Expert
Marketing Speakers
Now available for bookings nationwide!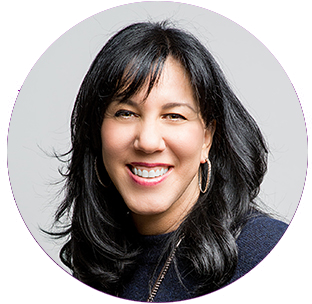 Joy Gendusa
Marketing Keynote Speaker,
Founder and CEO of PostcardMania
Enter your email to find out if she's available!
Joy Gendusa is more than just an engaging marketing keynote speaker…
She is an entrepreneur, business owner, author and philanthropist. She founded PostcardMania in 1998 with only a phone, a computer and her own marketing savvy — no capital injections whatsoever.
Before starting PostcardMania, Joy owned a graphic design firm and sent the marketing materials she designed to a commercial printer. One day she received a proof from the printer and noticed something: They had added their name and phone number to the postcards!
Joy called the printer to ask to have it removed. The fee to do that: $50!
She was appalled.
After some back-and-forth, Joy persuaded the printer to take their phone number off the cards (at no cost), but the ordeal pushed her to start her own company. She would call it PostcardMania, and would sell directly to small business owners while providing the best customer service they had ever experienced.
Today, PostcardMania is a $50 million enterprise that employs more than 200 people in the Tampa Bay, FL area.
Fast forward to 2018, and Joy has been recognized time and again as a business owner and executive leader. Just a handful of her awards include:
Tampa Bay CEO of the Year
Entrepreneur BusinessWoman of the Year in Tampa Bay
An Ernst & Young Entrepreneur of the Year Finalist (twice!)
PostcardMania has been named to the Inc. 500 and the Inc. 5000 lists and has provided marketing services for more than 78,589 small businesses.
Joy has been the featured marketing speaker at hundreds of events, and presented for such organizations as:
Direct Marketing Association
LatinoTaxPro.org
Stetson University
Dental Economics
Real Estate Grad School
Salon & Spa Professional Association
Howard Partridge Inner Circle
Clemson
The National Postal Forum
Small Business Expo
As a business owner, Joy has appeared in a number of high-profile magazines, newspapers and news television programming, such as:
Entrepreneur
Forbes
The Huffington Post
MSNBC
Fox News
Inc. Magazine
Business Insider
Yahoo! Finance
Business News Daily
MarketingProfs
Marketing Sherpa
Direct Marketing News (DM News or DMN)
Social Media Examiner
You can learn more about Joy's journey from startup graphic designer to successful business owner here. To enquire about Joy's availability and speaking rates, contact PostcardMania's Public Relations Director, Jessica Lalau, at JessicaL@PostcardMania.com.
Barry Coziahr
National Public Speaker
& Marketing Expert
Enter your email to find out if he's available!
Barry Coziahr is a sought-after marketing public speaker, educator and consultant specializing in small businesses.
He also hosts the small business podcast Real Live Marketing, which was ranked as a new and notable podcast by iTunes in 2014.
Before it was acquired by PostcardMania, Barry was the president of RESPONSE! Targeted Marketing, which was recognized as one of the top marketing firms in St. Louis, MO. RESPONSE! focused on delivering marketing campaigns and education to small business owners and nonprofit groups across the United States.
Barry has trained and consulted more than 10,000 small business owners and delivered over 1,000 seminars and workshops to small businesses across the United States.
He has presented on behalf of:
The U.S. Small Business Administration
The National Council of Jewish Women
Service Corps of Retired Executives (S.C.O.R.E)
The Way to Happiness Foundation International
Optimist International
The Rotary Club
And many other organizations that support small business. To enquire about Barry's availability, contact his assistant, Terry Allen, at TerryA@PostcardMania.com.
Here's What People Who Have
Booked Our Speakers Are Saying:
"If you've ever thought about having Joy Gendusa speak at your event, don't hesitate. Run to the phone right now and get on her schedule."

"Barry makes learning fun and engaging. He is an expert in his field and knows what being an entrepreneur is all about…"

"We've had the great pleasure of having Joy speak at our National Convention. Her business experience and unique approach to achieving success had our attendees hanging on every word. She is great!"

"Barry is a dynamic speaker who delivered an engaging marketing presentation... He was highly interactive with our group, answering Q&A, and staying after the presentation to follow up one-on-one."

"If you are ready to learn marketing best practices, tips and strategies then attend Barry's events and have pen, pad and questions ready – you will be amazed!"

Here's What People Who Have
Heard Our Speakers Are Saying:
"Informative on how to grow my business and generate leads."

"Awesome, phenomenal!"

"Joy, you rock!"

"It is clear why you are so successful."

"Very practical and applicable. Lots of value in this presentation."

"The practical tools I can apply were great. I loved this presentation."

"Very informational and helpful hints to market my company more effectively to potential clients."

"So many great ideas and great content for someone like me who is just starting a new business and is trying to figure out the best way to start marketing that business. Great advice on what works and more importantly, what doesn't work."

"Lots and lots of very practical and relevant tips I can apply right away. Joy, I appreciate the manner in which you communicate many important concepts and practices, in a genuine desire to serve the attendees."

"Wow! Just wow! I highly recommend."

"Very energetic. It's obvious you love what you do."

"I learned there is a lot I don't know!"

"Well done! Great info - practical how-to."