Doorhanger Design & Printing
Get your prospects' attention with beautiful full color doorhangers!
Do you have a business where your employees make house calls? Do you have certain neighborhoods or apartment complexes that you would like to get your message to regularly? Doorhangers are the perfect way to go! Have your employees doorhang the neighborhood quickly after an appointment or doorhang that neighboorhood with all of the nice huge houses that would be great clients.
Doorhanger Printing
Our doorhangers are printed on thick, sturdy card stock with full color and super glossy lamination on the front! Get 5000 for only $699!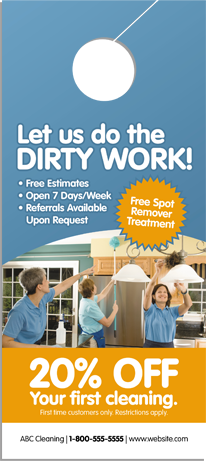 Doorhanger Design
Full Conceptual Design - $199 (Unlimited Revisions): Don't know what you want on your doorhangers? No worries! With our full design service our Professional Copywriters will come up with the perfect wording for your doorhangers and then our Graphic Design Team will turn those words into a gorgeous doorhanger that will grab your prospects' attention!
Partial Design - $99 (Unlimited Revisions): If you have an idea of what you want on your doorhangers and you just need it professionally laid out, then our Partial Design service is what you need. You can also choose any of our designs from our sample gallery and we will set this up for you!
Postcard Into Doorhanger - $75 (Unlimited Revisions): Already have a postcard design on file with us? We can turn it into a doorhanger for you!
All prices are flat fees. You don't pay extra for revisions and unlimited changes are included. You don't have to approve the design until you're happy!
View our Doorhanger Sample Design Gallery!
We run specials often. Call now for our lowest prices!

Get More Info
Get Free
Doorhanger Samples!