Affordable Graphic Design That Gets Great Results
By professionals that have created thousands of ads for hundreds of industries.
At PostcardMania, our Results Manager constantly tracks which postcard designs bring in the best results, and we make sure your postcard has every successful element.
Watch this 1:20 video before hiring a graphic designer:
PostcardMania Design Options:
Partial Postcard Design - $99
We design it, but you know what you want.
You tell us what you like and provide the text for the back or choose from more than 1,000 proven industry-specific design samples. View Samples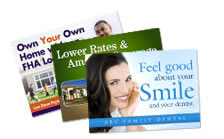 Full Postcard Design - $199
We do all the work.
Our copywriter and design team create a results-driven postcard design including images, text and layout. You fill out a short design survey and we'll take care of the rest.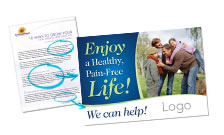 Brochure Design - Call for Pricing
You can say a lot more.
We work with you to design a complete informative brochure. Highlight all the benefits of your business like services, history, staff and more. Call us for a custom quote.
"I worked for 'Top 10' ad agencies in New York for years so I know when I'm working with pros. You developed a splendid sales piece with your layout — and I think we'll have a winner."

- Doug Smith, AAA Better Lawns & Garden
Frequently Asked Design Questions:
How long does it take to get my design?
You will receive a design proof within:
· 3 business days for a partial design
· 5 business days for a full design

Need your design quicker?
Ask your marketing consultant about our Rush Design.

Providing artwork?
Our Art Coordinator will check to see if your layout is set up correctly for our printing requirements.
Need an effective, professional design? Call our marketing consultants today.