Consumer Lists
Business Lists
Occupant/Resident Lists
New Homeowner Lists
Not sure who to mail to? Just ask us!
Your list plays a vital part in maximizing leads from your mailing. Our marketing consultants will help you determine who your target market is and get you a mailing list as specific as possible to target only your best prospects.
Need help figuring out your mailing list target market?
Call one of our Mailing List Specialists today at
Your FREE List Count begins on the next page!
But first you have the chance to also receive a FREE Mailing Survival Guide - your guide to direct mailing in your industry.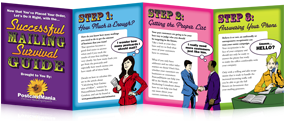 This complimentary package teaches you:
How to get results with successful postcard samples from YOUR industry — hand-chosen just for you
Critical mailing knowledge to help you get the most out of your direct mail campaign
Additional marketing techniques like doorhangers, brochures and business-reply cards (with samples of each)!
Please just provide your industry (so we can hand-pull the most relevant postcards), and an address to send your FREE Survival Guide to.
Get on the cutting edge of direct mail — because, why not?
It's FREE.