Yale Appliance and Lighting Case Study
"Postcards are great for continual business growth, but they can also be effective for temporary retail sales events."
Client
Yale Appliance and Lighting
Industry
Retail
Location
Dorchester, MA 02122
Cards Mailed
92,000
Design Features
Yale Appliance and Lighting chose to go with a color scheme of blue and orange. The colors contrast each other well, which created an engaging visual appeal. They introduced their big sale and the date it was offered right in the top-left corner, then promoted three special offers in a stripe through the middle of the card. This card's design got prospects' attention, then got them interested with special discounts and monetary incentives.
The Situation
Yale Appliance is a retailer of major appliances, lights and fixtures in Boston, Massachusetts.
Plan Your Marketing
Campaign. It's Free!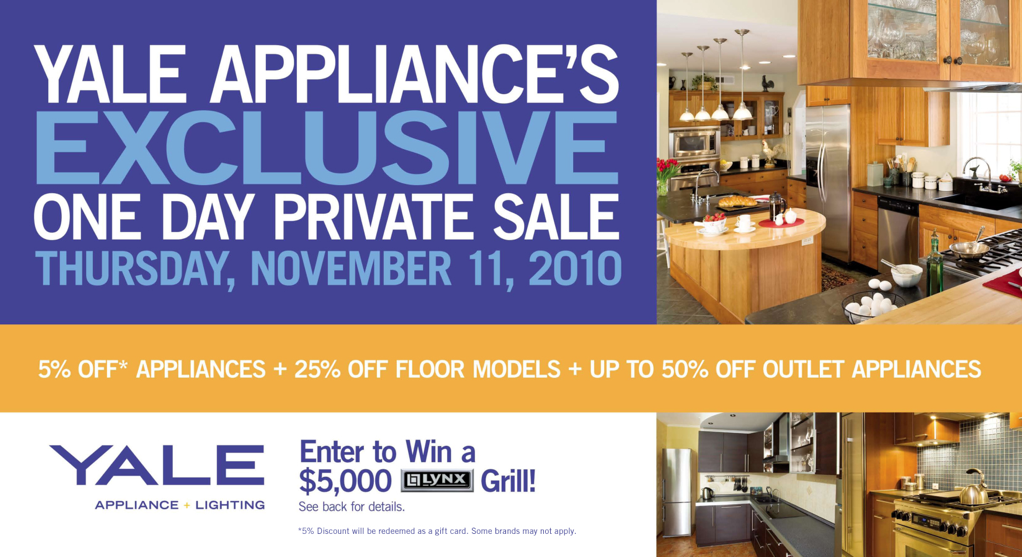 The Solution
Postcard Design: 
 A very clean and professional template accented by bold colors is the basis for this postcard, which also includes: -A Clear, Captivating Headline
 -Stunning Images to Support Text
 -An Enticing Offer Mailing List: 
Their entire customer database. Mailing Schedule: 
 92,000 cards for a one-time mailing
The Results
"Working with PostcardMania is good because you have print shops and you have marketing shops...you don't [often] have somebody that can do both. PostcardMania is like a one stop shop and it doesn't cost you any more." - Steve Sheinkopf, Yale Appliance
Speak to a Marketing Consultant 1-800-628-1804