Direct Mail Marketing with

PROVEN

RESULTS.

We are the ONLY ones who create your campaign
based on the proven results from over 61,654 clients!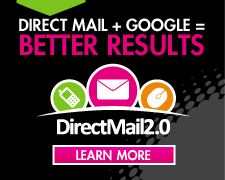 Direct Mail and Bulk Mail Experts
PostcardMania has been one of the largest companies in the national market for bulk mail advertising since we started in 1998. Our innovative and constantly changing process ensures that we are always at the forefront of the bulk mail and direct mail industry. We offer every kind of service that a company or individual wants or needs when it comes to bulk mail and direct mail advertising. Companies wishing to use PostcardMania can use our graphic design services or printing services for their bulk post card mailings. We also offer services to help you organize and build your mailing list, and the actual mailing services themselves. The fact that we offer both printing and marketing services in the same place is what has made us so successful over the last 13 years.
Besides our bulk mailing and direct mail services, PostcardMania offers many other advertising services as well. We can help any business increase their lead capturing abilities online by designing a landing page for their business for capturing leads, and even help companies design their websites with video and other graphic services to make them more appealing to potential leads. PostcardMania's employees are highly trained to help companies design a bulk mailing system with a streamlined and effective process to achieve maximum results. We have won many industry awards for our design and marketing services.
Our staff at PostcardMania are so good at what they do because they learned the hard way. CEO Joy Gendusa started the business in her home on a single computer. She started the company due to the fact that she noticed a major deficiency in the services she received from a printing company for her former marketing company, and decided to strike out on her own and start her own company for direct and bulk mailing. She coupled her marketing experience with the ability to print advertising mailers to ensure that her prospective clients could get all the services that they needed for bulk mail in one place. The business was very successful right off the bat because she was able to give away the marketing knowledge that she had acquired from her previous experience for free, and only make money off of the printing services. This kept her expenses low and made it very appealing for companies to use her services.
Her business model was in stark contrast with other printing companies at the time. The only way that you could get bulk mail printed back then was to go to huge printing companies. The problem with this was that these companies did not provide any kind of marketing advice. They merely printed off the bulk mail that the companies requested. If businesses at the time wanted marketing advice they would have to pay large marketing firms. The problem with this is that many of the companies that use bulk mail are small businesses that are trying to get a foothold on the market and cannot afford expensive marketing advice to help grow their business.
The fact that Gendusa could couple her marketing advice with her printing services was a major advantage for her company and helped facilitate its quick and expansive growth. She took PostcardMania from a small one-room company run on a single computer and a telephone to a company that provides services to businesses in over 350 industries.
Another reason that PostcardMania is so successful is that it is a great place to work. Everyone says that a happy employee is a productive employee, and PostcardMania exemplifies that adage. First of all we only hire the best in the industry to help us get the job done. We also provide a safe and friendly workplace where all of our employees can get their job done without unnecessary criticism and unwanted office politics while working in a state-of-the-art facility as well.
Any company wishing to implement bulk mail and direct mail into their advertising program would benefit greatly from using PostcardMania. This is because we are not just merely a printing company. We are also a multifaceted marketing firm that can help any company design a direct mail program that is right for them when it comes to building a lead base, a good lead-building website and attractive postcards for bulk and direct mail.